01 September 2020
|
ScotlandShop: fabrics, clothing & accessories in over 500 tartans woven in Scotland.
The ScotlandShop collection is inspired and influenced by the multitude of colour to be found in our Scottish tartans, steeped in history, yet still a fundamental part of the fashion industry. Combining the talents of the many fabulous designers and manufacturers we work with across Scotland, we are spoilt for choice with all these beautiful fabrics woven on our doorstep.
---
Choose your perfect tartan...
From fabric by the metre to clothing, accessories and interiors products custom made in over 500 tartans you are sure to find a favourite. We are here to help you celebrate your clan connections, discover your family tartan or simply find the perfect colour to create your dream outfit or interiors project.
Our friendly and knowledgeable staff are on hand to advise on fabric uses, weights and tartans. We love to hear about your special event or project and do love our tartan so don't be afraid to ask. Swatches are available with no shipping charges so you can check colours and quality prior to purchase.
---
Wool tartan fabrics woven in Scotland - choose from 3 different weights suitable for all sorts of projects including upholstery, over 500 tartans and a smaller range of machine washable polymix fabrics.
---
Tartan for all the family - we make all our items for all ages from newborn to grandparents. A great opportunity to pass your heritage down through the generations.
---
The Highland Rose tartan, perfect for girls who don't want to wear a specific clan tartan but do love a pretty plaid.
---
The Edinburgh Tartan Mini Kilt - 2 best sellers in one, your favourite bold blue and red Edinburgh tartan and the Mini Kilt, made in Scotland using traditional kilt making skills.
---
Catwalk tartans - the Thompson Camel Kilted Skirt can be made to any length and in any tartan, but this season we love a bit of camel.
---
Suited and booted - Tailored suits made to measure in the tartan of your choice with all the special details you can dream of, different linings, lapels, pockets, buttons and stitching.
---
His 'n Hers - Matching outfits for special occasions or team 2 family tartans, create something unique for weddings and events.
---
All dressed up - Beautiful shift dresses made to measure in the full range of tartans, with your choice of sleeve length and sizing from petite to plus.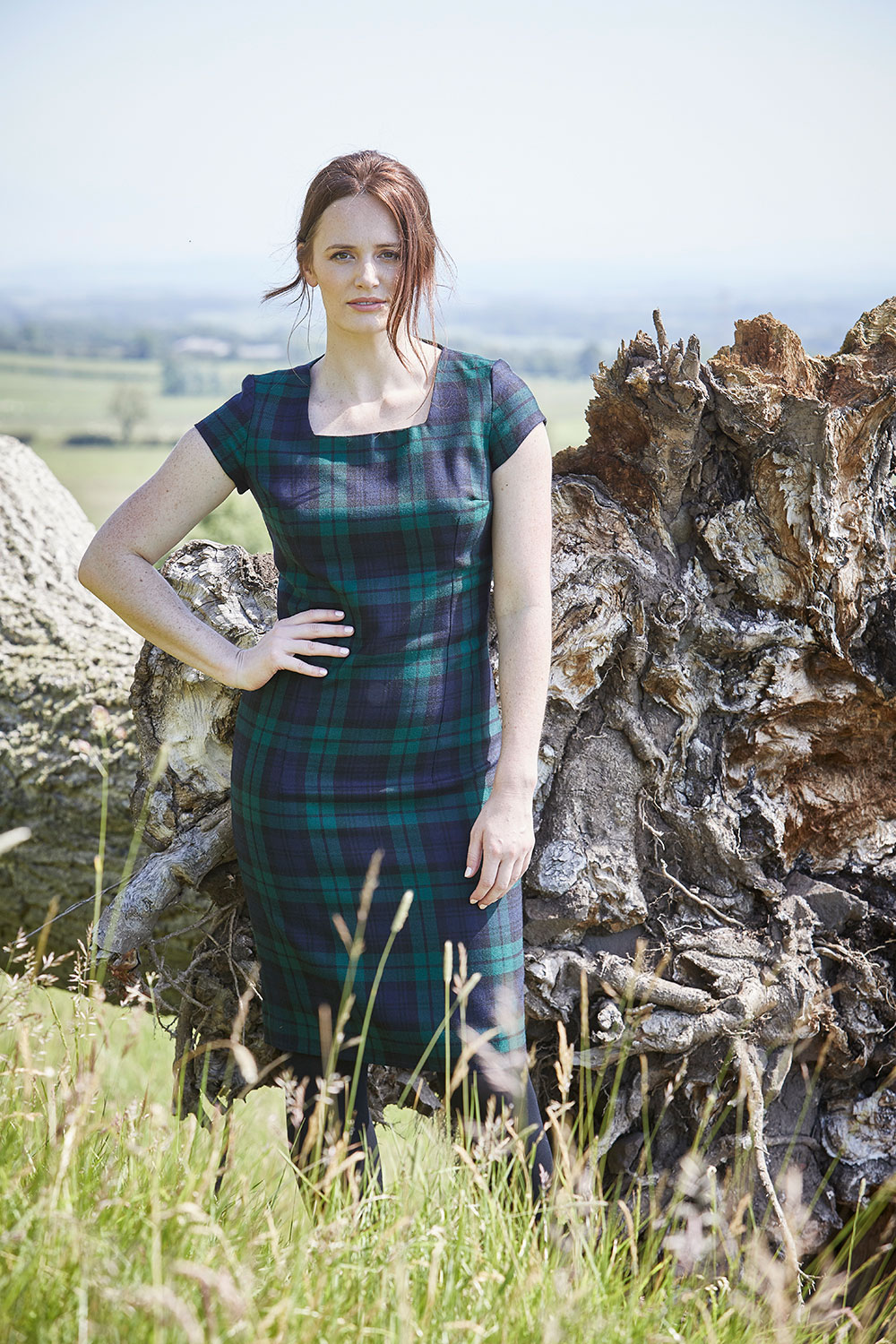 ---
Highland wear fit for a chief with every skirt style you can dream of for the ladies from a cheeky mini kilt to a full length kilted skirt and everything in between.
---
Made to measure garments in any tartan. Book a virtual appointment via video call if you need some help with measurements or choosing your tartan.
---
Expert help and advice
Tailored garments such as jackets and waistcoats have all sorts of special options including different linings, buttons, pockets and stitching so you can create yourself a truly unique outfit. We have guides to help you measure and can talk you through the options if you have any special requirements. We can deal with petite and plus sizes, urgent orders and much more.
Shop online via our website, visit our Edinburgh store or join us on a virtual appointment via video call. Peruse swatches of every tartan, choose linings for a jacket, learn to measure and so much more.
We ship internationally so you can have your piece of Scotland wherever you are in the world. Gift wrap is available with delivery to the recipient tied up with tartan ribbon and including your special message.
---

Questions?
We are here to help - contact us via email, livechat or telephone (01890 860770) seven days a week. Visit our website today.