10 April 2020
|
Professor Steve Murdoch and Dr Kathrin Zickermann report on the findings of the Scottish War Widows project, which sought to reconstruct the experiences of Scottish women whose husbands were killed during the conflict.
This exclusive read is extracted from an article in the May/June 2020 issue of History Scotland. Get your copy here.
Early modern historians are well aware of the contribution of Scottish soldiers to the Dutch and Scandinavian armies during the Thirty Years' War: estimates state that over 50,000 Scots aided the anti-Habsburg forces alone throughout the conflict.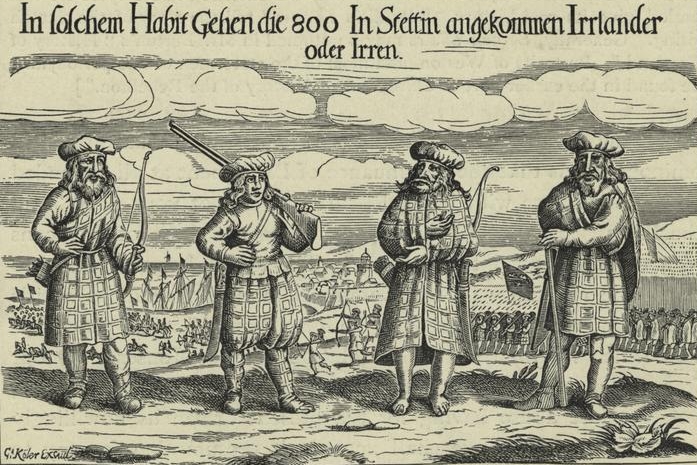 It is a sobering thought that most of these Scottish soldiers and officers did not return to their home country, but died abroad from the consequences of warfare. More soldiers perished from disease or wounds than did on the day of battle.
New research
In recent years, substantial research has been undertaken to understand the war experience of these soldiers. However, in comparison, very little is known about those who financially depended on them. The Scottish War Widows project seeks to address this gap and analyses the survival strategies of women who were left behind by their fighting husbands. This group is far from homogeneous and includes women of different means and social standing in various locations in Scotland, the Dutch Republic, the Holy Roman Empire and Scandinavia.
Our lack of knowledge about Scottish widows derives not least from the difficulty of finding archival material pertaining to them. For instance, in Swedish archives the correspondence of wives and widows is frequently filed under their husbands' name, making it harder to find. Nevertheless, a valuable corpus of widows' letters written in Scots, Latin, Swedish, German and Dutch has now been collected, digitally photographed, translated and transcribed. They are scattered in archives across Scotland, England and continental Europe.
One of the most important results from the analysis of their correspondence is that Scottish war widows were not helpless victims of their fate, but could rely on personal and institutional support as well as on their own agency to rebuild or simply maintain their livelihoods.
Provision through wills and remarriage
Scottish war widows were afforded some level of protection through wills and testaments which anticipated the demise of their partner. Research in various Scottish and continental archives demonstrates that soldiers and officers cared about their family's fate and sought to insure their income as best as they could.
For example, Leendert Grim (Graham), who was a common soldier in Colonel William Brog's company within the Dutch Republic, made a joint will with his wife Christina Bruce in December 1635, in which both were named as sole beneficiaries in the event of the other's death. However, cases of children inheriting instead of their widows are not uncommon: trumpeter John Maxwell specified that his wife Jannet would become his beneficiary, but only if he died childless.
Others had a different view, such as musketeer David 'Vloeker', who stipulated that his children could inherit, but only after his wife had died.
General Sir James Spens of Wormiston, a long-term veteran of Swedish service, drafted his will in 1631 protecting his son and heir from his first marriage, William Spens, and his rights to the main Spens barony of Örreholm. He also took care of his second wife Margaret Forrat and stipulated that she should receive at least fifteen farms and the country manor house at Åla (in Uppland, Sweden) so long as she remained unmarried. In the event that she did find a new husband, ten of the farms were to pass to Margaret's and James's son Axel.
In addition, Spens's daughters from his first marriage (Isobel, Elizabeth and Cecilia) who had already received 'sufficient dowries', were nevertheless granted specific gifts of money and movables, but Spens was categorical that, through his will, the rights of Margaret Forrat were protected from any claim by his children against her estates. To guarantee this he made Axel and Gabriel Oxenstiern, the guardians and protectors of all his children from both marriages. This was a shrewd move, not least as the Oxenstierna family would become the most powerful in Sweden after the death of Gustav II Adolf in 1632, with Axel being both regent and chancellor of the Swedish realm thereafter.
Remarriage as a way forward for some
Although remarriage impacted on some of the widows' inheritance it was nevertheless often sought as a way forward. The advantages of finding a new husband and provider often outweighed the disadvantages. Some 50% of the marriages in the Scots-Dutch Brigade involved women who had already been widowed. Major General James Ramsay in Sweden used his will to positively urge his wife Isobel Spensto remarry another husband from an established family in order to protect their child.
State-sponsored support: Dutch pensions and Swedish land donations
Of course it is not possible to quantify how many soldiers made wills in the first place or if the majority of wills included sufficient property or money to provide widows with lifelong pensions. What we do know is that a substantial group of widows had to look for alternative means of institutional support. Some soldiers' widows could rely on help from local civic authorities and even interventions by their own monarch, particularly if the men died in the king's service.
For example, widows of soldiers in the service of the Dutch brigade were granted some assistance by the Dutch council of war, although there was no consistency in the level of support granted. In 1621, four widows of Scottish officers received a life pension.
However, whereas the widow of Captain John Balfour obtained an annual payment of 50 guilders, the widow of Lieutenant Colonel Caluart, Barbara Bruce, and the widow of Captain Strachan, Anna (Agnes) Kirkpatrick, received 200 guilders each, highlighting that rank was not the defining factor for the amount awarded. As regards Kirkpatrick, later records reveal that she was still receiving the same pension in 1650. In addition, she was awarded a 50 guilder maintenance fund to keep her son at school, a fund that she, like numerous other mothers, did receive.
After the end of the Twelve Years' truce (1609-21) with Spain and the subsequent siege of Bergen-Op-Zoom (1622), the Dutch declined several applications for pensions. This for example affected the widow of Captain David Ramsay, Delia Butler, who was instead awarded a sum of 80 guilders to facilitate her return to Scotland. There were complications in this case: Delia Butler was the daughter of the late Captain Thomas Butler who served under Colonel Buccleuch.
She had previously brought a case against Buccleuch who, though she was only fifteen, had seduced her and fathered a child by her. She successfully fought for custody of the child and received ongoing financial compensation for Buccleuch's actions. When her husband was killed it seems that the States-General baulked at a second round of ongoing compensation and so paid her passage home to Scotland.
Read the full article in the May/June 2020 issue of History Scotland, available in print and digital here.