25 January 2021
|
Dr Calum Robertson, Curator, Modern & Military History at National Museums Scotland, shares the stories behind intriguing Robert Burns objects from the collections of National Museums Scotland.
There are of course Burns related treasures in collections across the Scotland, most notably and obviously the Robert Burns Birthplace Museum as well as in Dumfries and Ayrshire and in the manuscript collections of the National Library of Scotland among others. There are some gems too in the National Collection, and here are some of the highlights:
Pistols belonging to Robert Burns
In 1788 Burns took a lease on a farm at Ellisland near Dumfries. A year later, due to the state of his finances, Burns became an officer of the government's Department of Excise, while continuing to farm at Ellisland. Working for the Excise could be dangerous, and in 1788 Burns had received a pair of pistols made by Blair of Birmingham. These would prove useful for his personal protection in his new post.
By 1791 his farm at Ellisland had failed, forcing Burns to move to Dumfries to become a full-time exciseman. The poet's radical opinions caused trouble with his employers. Burns shared many of the views of the political reformers and had a rather ambiguous attitude to being a government employee, as his poem 'The Deil's awa wi' the Exciseman' suggests.
Content continues after advertisements
Goblet
A large glass goblet such as this would have been used as a punchbowl, and a clue to this use can be found amongst the words and images that have been engraved into the glass. On one side there is a quote from Robert Burns' poem 'Epistle to Davie, A Brother Poet', and on the other a scene depicting three men drinking under which is written 'Willie Brew'd a Peck o' Maut'. Burns' composed this poem as a celebration of drinking and friendship.
The punchbowl was made in 1824, by which time the formal celebration of Burns' life and works through clubs and associations was widespread in Scotland.
Tappit hen
The name 'tappit hen' is derived from the distinctive thumbpiece or finial that makes the object look like a crested (or tappit in Scots) hen. These pewter drinking vessels were common in eighteenth century Scotland's public houses because they were relatively cheap to make and could withstand use and, perhaps, abuse. They could also be engraved with the owner's name or initials.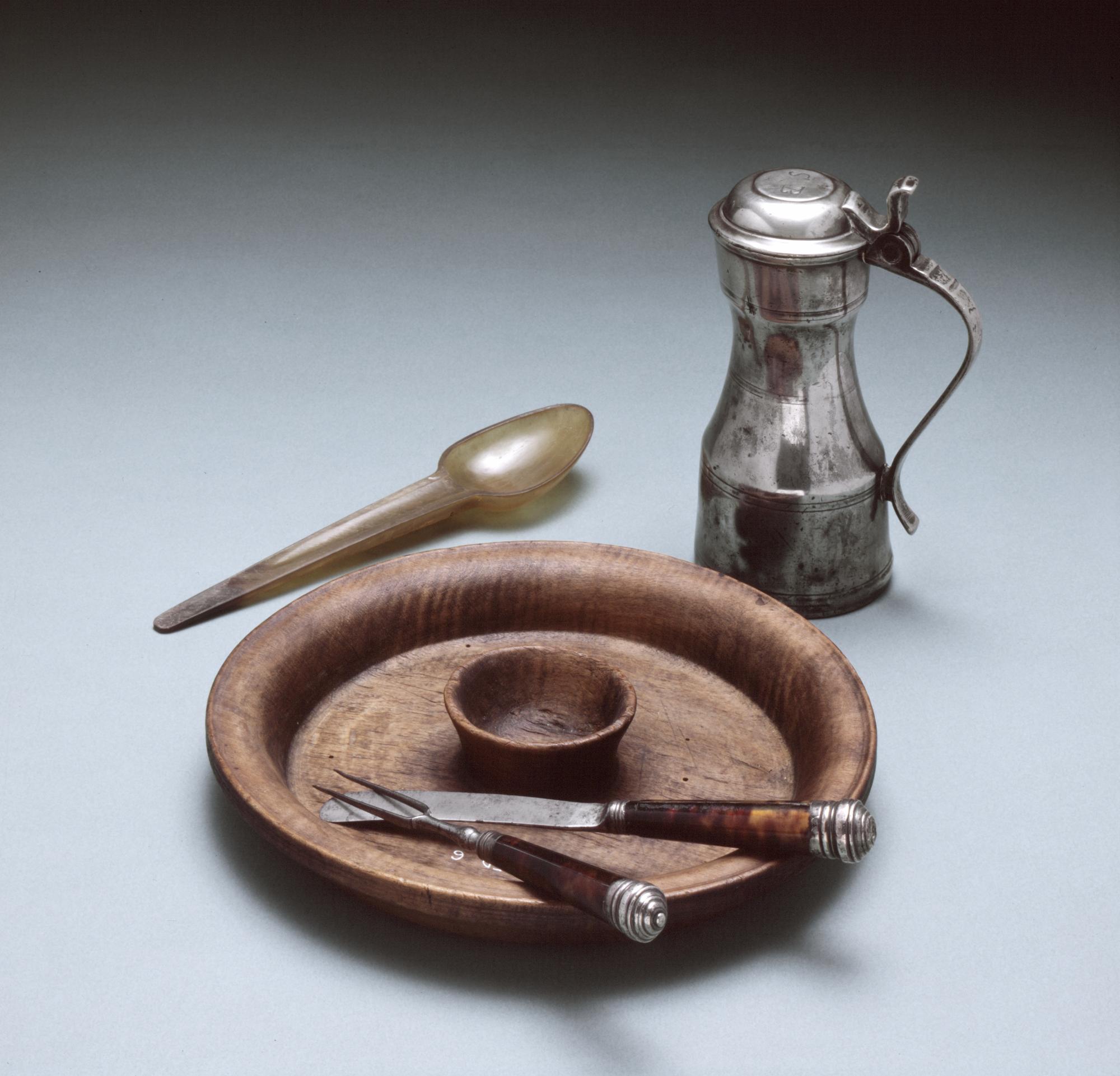 This example is thought to come from John Dowie's famous tavern on Libberton's Wynd in Edinburgh. John Dowie's was the favoured drinking spot of Robert Burns and his companions, William Nicol and Allan Masterton, when the poet was in Edinburgh between November 1786 and February 1788.
Chanter
This bone chanter, part of a stock-and-horn, may look rustic, but it was an object that meant a lot to Robert Burns. This type of instrument was traditionally played by shepherds, but by Burns' time that tradition had almost vanished.
After much searching, Burns' finally acquired this instrument in Highland Perthshire, and wrote 'This one of mine was made by a man from the Braes of Athole, and is exactly what the shepherds were wont to use in the country.' Burns later designed his own coat of arms, where his stock-and-horn features proudly on the shield.
If you would like to see more Burns-related objects from the NMS collection, visit the Robert Burns articles pages.
Text and images courtesy of National Museums Scotland.
Content continues after advertisement