06 March 2022
|
The first radio broadcast in Scotland took place - On this day in history
Scotland's first radio broadcast was made from the attic of a property in Glasgow's Bath Street on 6 March 1923. ...
A large cast of musicians, singers, actors and speech makers had gathered in the attic of the Bath Street premises for the broadcast, which was opened by Lord Reith of Stonehaven.
Within a year of the broadcast, radio stations had been established in Edinburgh and Aberdeen, and by the outbreak of World War Two in 1939, ninety percent of the country was served by radio transmitters.
1923 was also the year of the first Scottish broadcast in Gaelic, when a fifteen-minute address was made by Reverend John Bain on 2 December 1923, recorded in the United Free Church in Aberdeen.
With thanks for Walter Smith for the following information:
I came across this news article dated June 1923 about radio broadcasting and the first experiment that occurred in my local pit in Larkhall, Lanarkshire:
Content continues after advertisements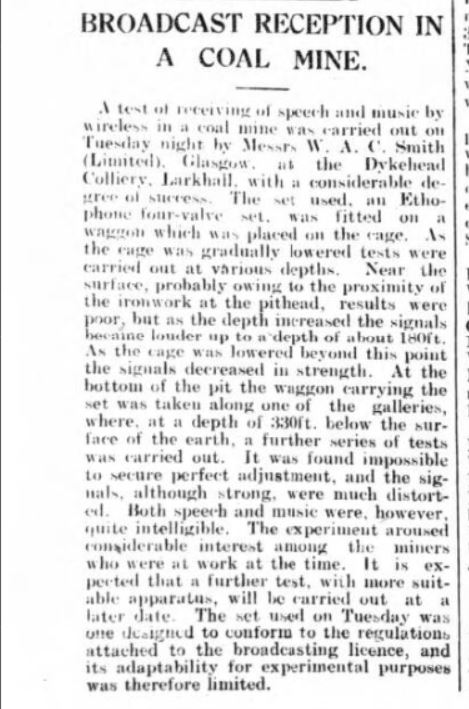 Broadcast in Coal Mine
An experiment of considerable interest was carried out recently to test the possibilities of radio-telephony receptions in the depth of a coal mines. Valves was installed on a wagon at pit-head, Larkhall, Scotland. Prior to descending, reception of a concert from 5CS, the Glasgow broadcasting station, was very difficult to tune in, owing to the masses of local ironwork; but as the cage was lowered slowly, reception improved at a depth of 150ft.
Upon reaching the bottom, 330ft the wagon was run into the gallery, and a single aerial wire nearly 40ft in length suspended along the roof. A wire connected to a water pipe from above ground served as "earth". Good reception was obtained under these conditions, the announcements and musical items from Glasgow begin heard clearly by the miners and others in the depth of the pit. Maybe this was also a world first.