07 October 2020
|
Queen Victoria pictured c.1880
An elaborately-crafted royal pew made to seat Queen Victoria during her visits to St Giles Cathedral in Edinburgh is to be offered at auction this weekend.
The oak pew, known as the Victoria Pew or Royal Pew, was designed by architect William Hay in 1872-73, by which time Victoria (pictured above c.1880) had been on the throne for almost four decades and was a widowed mother of nine.
The pew was discovered five years ago in a portacabin at an Edinburgh builder's yard by farmer and joiner Kevin Clark who was immediately struck by its age and craftmanship and decided to find out more. He took the various components of what he would later discern was the royal pew to a shed in Dalkeith and carefully laid them out, realising that he had stumbled on something very special. And the find was certainly of majestic proportions, measuring around 6.5 m long and 4.5 m high.
Royal research
A little research at the National Library of Scotland led Kevin to realise that this was Victoria's royal pew from St Giles Cathedral, carved in oak by Princes Street joiners Taylor & Sons. He was then able to visit the cathedral to talk to the archivist there and find out more.
St Giles Cathedral, Edinburgh, pictured c.1880-1890
The royal pew was part of a sixteen-year project by the city's Lord Provost William Chambers (of publishing fame) to transform the interior of the medieval building into a space that he called 'Scotland's Westminster Abbey'.
LINK: Three curious facts you (probably) didn't know about St Giles Cathedral
The pew, it was planned, would house the monarch and her retinue in style on their visits to this place of worship. In fact, Victoria donated £200 to the restoration fund, prompting members of the public to get behind the project, which was finally completed in 1883, shortly after Chambers' death.
Two locations
Over the years the pew had been sited in two positions within St Giles Cathedral – its original spot in the Preston Aisle, facing east, which apparently never found favour with Queen Victoria who didn't care for the view from the pew – and then from 1878 at the West entrance where it became part of a processional walkway and entrance.
Here, what had been Victoria's seat was replaced with a pair of double doors with the royal crest featuring V R initials above them, with panelled side doors providing entrances to the north and south.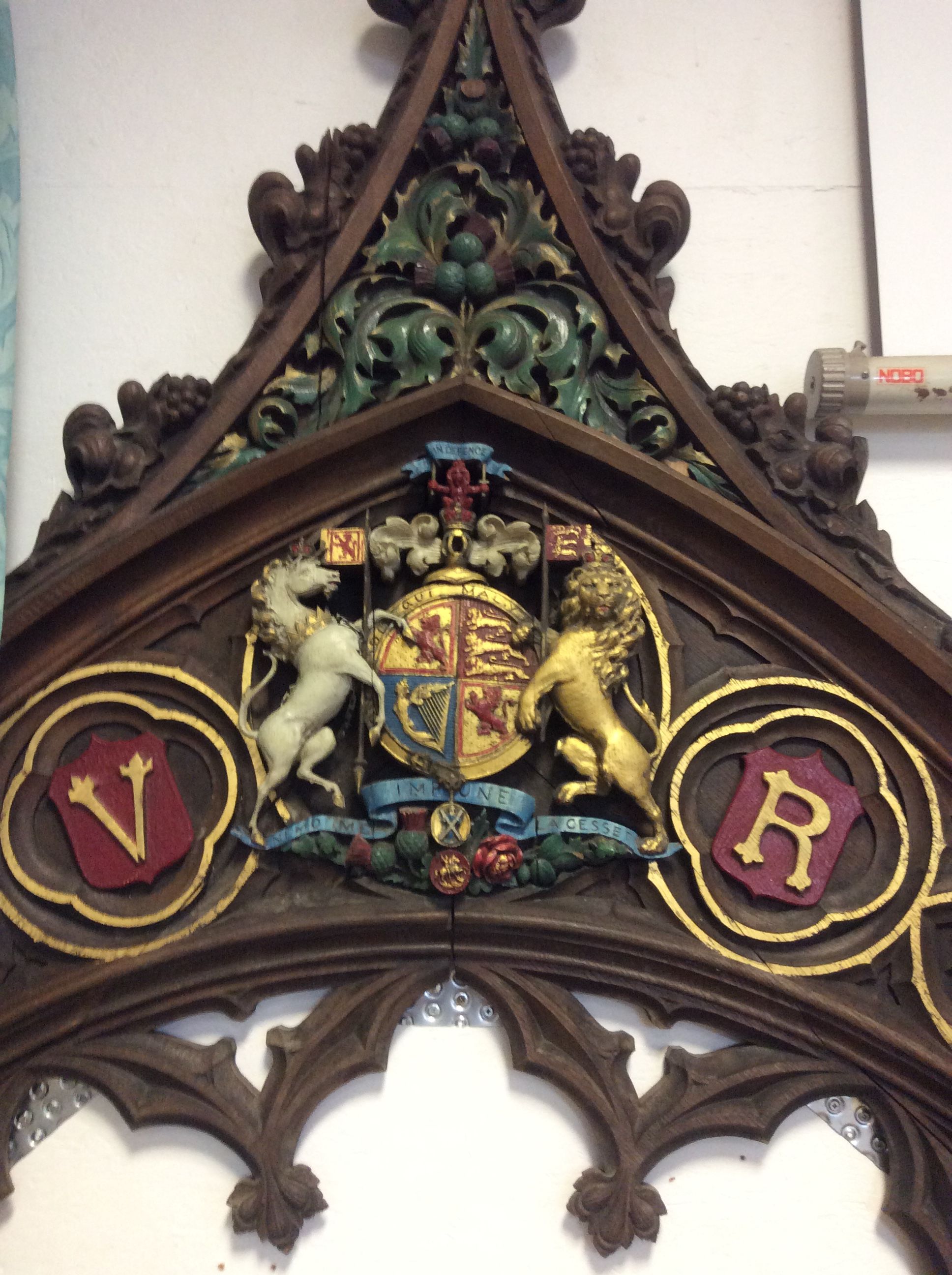 Times moved on and in 2008, the entire structure was removed to make way for a new glass screen by Leifur Breiðfjörð. Kevin believes that because the pew had been altered in its purpose and re-sited, its royal connection and history was eventually overlooked and it made its way into the hands of building contractors.
Auction details
The royal pew will go to auction on Saturday 10 October at Railton's saleroom in Wooler, Northumberland, where it is offered as lots 233-239, to be sold either as one lot or separately.
The lots include the royal crest with VR initials (lot 233), accompanying seats for the queen's retinue (lot 235) and the side doors with glazed panels (lots 238 and 239). Click here for more information.
The items will be on view at Railtons saleroom in Wooler from Thursday 8 October. Due to current Covid19 restrictions interested parties should contact the saleroom to make an appointment.