25 September 2019
|
Get the maximum enjoyment from your Edinburgh break with our guide to ten historic visitor attractions within an hour's drive of the city.
1. Traquair House
Scotland's oldest inhabited house dates back to 1107, when it was originally used as a hunting lodge for the kings and queens of Scotland. Mary Queen of Scots visited Traquair in 1566 and the family's Catholic beliefs saw the castle's fourth Earl imprisoned in Edinburgh Castle for his adherence to the Jacobite cause.
Today's visitors can tour the castle, chapel and grounds, and see the King's Room where Mary Queen of Scots stayed with her husband Darnley and the infant James VI.
Traquair House, Innerleithen EH44 6PW; tel: 01896 830323; website.
2. Rosslyn Chapel
A fifteenth-century intricately carved chapel known for its association with Dan Brown's Da Vinci Code. The chapel was founded in 1446 and is still a place of worship, as well as a popular attraction for visitors the Edinburgh area.
Explore the carved Lady Chapel, with its depictions of the Green Man and the death mask of Robert the Bruce, enjoy a talk to discover more about the building's history, and explore the visitor centre for more on the chapel and its history.
Rosslyn Chapel, Chapel Loan, Rosslyn EH25 9PU; tel: 0131 440 2159; website.
3. National Wallace Monument
Enjoy discovering the story of Scotland's national hero, Sir William Wallace, at the spectacular Victorian monument that bears his name. Climb the 67-metre tower's 246 steps for panaromic views over Stirling and surrounds, looking out over landscape which has played a key role in Scotland's history; the battles of Bannockburn and Stirling Bridge were fought here.
Three exhibition galleries tell the stories of Scotland's heroes, and you can also see Wallace-related artefacts including the huge Wallace Sword.
National Wallace Monument, Abbey Craig, Hillfoots Road, Stirling FK9 5LF; tel: 01786 472140; website.
4. Dunfermline Abbey
A historic abbey which still acts as a place of worship after more than 1,000 years of Christian history on this spot. The abbey is famed as the burial place of Scotland's kings and queens – including Queen Margaret, David I, Robert I and Robert the Bruce.
The abbey is noted for its Romanesque architecture , which can be seen in the huge nave.
Dunfermline Abbey, Dunfermline KY12 7PE; tel: 01383 724586; website.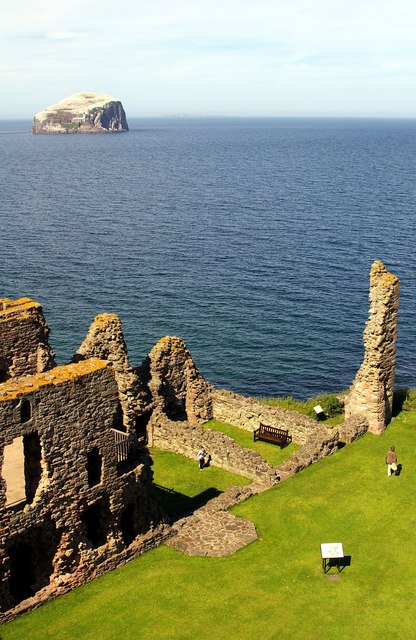 5. Tantallon Castle
A fourteenth-century fortress spectacularly sited on a peninsula overlooking the Bass Rock. The castle looks out over the Firth of Forth and the substantial ruins offer plenty of chances for exploration, as well as sweeping views of the coastline.
Tantallon was the family seat of the Red Douglases and their might can be seen in the huge curtain wall and battlements, which remain to show how the imposing castle warned away attackers.
Content continues after advertisements
Tantallon Castle, North Berwick EH39 5PN; tel: 0131 668 8600; website.
6. Dean Village
Just a few minutes from the centre of Edinburgh is Dean Village, a historic settlement which provided the city's residents with their bread in the Middle Ages. Nowadays, the village is a picturesque place beside the Water of Leith which still has many traces of its past, including a Thomas Telford bridge, St Bernard's Well Temple and model housing for mill workers, which has recently been restored.
The village can be found just five minutes from Princes Street. For more information, visit the website.
7. Prestonpans
A town to the east of Edinburgh which is associated with the Battle of Prestonpans, which saw a Jacobite victory over a government army during the 1745 Rising. More recently, Prestonpans has become known as Scotland's mural town because of wall murals found on buildings around the town which tell of Prestonpan's history and local industries including salt panning, brewing, pottery and brick-making.
Today's visitors can see plenty of historic buildings, including the Old Parish Church, Mercat Cross, doocot and Preston Tower. There are a number of guest houses in the area, making this a great place to stay when visiting Edinburgh.
8. Incholm Abbey
A medieval island priory which was founded by David I and once sheltered Mary Queen of Scots. Explore the ruins to discover what monastic life was like in the Middle Ages, see a rare medieval fresco, and discover the island's more recent history, with its coastal defences, designed to protect the Firth of Forth and the Forth Bridge during the two World Wars.
Incholm Abbey, Incholm Island, Edinburgh KY3 0UA; tel: 01383 823332; website.
9. Abbotsford House
The former home of Sir Walter Scott, Abbotsford House is a Borders mansion which houses treasures assembled by the author during his time here. The historic house was furnished by Scott and its setting inspired his literary works.
Visitors can take a tour of the house, including the study, armoury, dining room and library, the latter being where Scott kept his large book collection. A day here can also include exploring the formal gardens and adjacent woodland.
Abbotsford House, Melrose TD6 9BQ; tel: 01896 752043; website.
10. Linlithgow
The royal burgh of Linlithgow is a historic settlement midway between Edinburgh and Stirling, which expanded because of its links with the Stewart kings and queens, who found the town a convenient retreat from city life.
Linlithgow Palace was built by King James I, with further improvements by subsequent monarchs and Mary Queen of Scots was born here. Linlithgow also has a loch, the Union Canal, St Michael's Church (where Mary Queen of Scots was christened) and plenty of shops and cafes.
Images: Traquair © Graham Laird; Rosslyn © Sabine Perry; Wallace Monument © D Duguid; Dumfermline © Tony Grist; Tantallon © Paul Taylor; Dean Village © Richard Webb; Prestonpans © James Denham; Incholm © William Marnock; Abbotsford © Christian Bickel; Linlithgow © Stanley Howe.
Content continues after advertisement