29 October 2019
|
Find out more about the Scotland that Mary of Guise knew in our special travel feature.
Mary of Guise was born in France on 22 November 1515, the daughter of the Duke of Guise and his wife Antoinette de Bourbon. At the age of 23 she embarked upon her second marriage, to King James V of Scotland. The couple had three children, two boys who died in infancy and one daughter, the future Mary Queen of Scots. Mary was left a widow in 1542 and was defended her daughter's throne until her own death in 1560.

Edinburgh Castle


Perhaps for Mary, the most important of all Scotland's strongholds, Edinburgh Castle was her home for the final weeks of her life, as she sought desperately to defend herself and her army from English forces in March 1560. She died in the castle on 11 June 1560 at the age of 44.

Edinburgh Castle, Castlehill, Edinburgh EH1 2NG; tel: 0131 225 9846; website.

Falkland Palace

A favourite residence of the Stewart monarchs, Falkland Palace was extensively improved by James V and Mary, with one of their major projects the creation of a Royal Tennis court. Some of the craftsmen who worked on the palace came from France, following recommendations from the de Guise family back in Mary's birth country.

Falkland Palace, East Port, Falkland, Cupar KY15 7DA; tel: 01337 857397; website.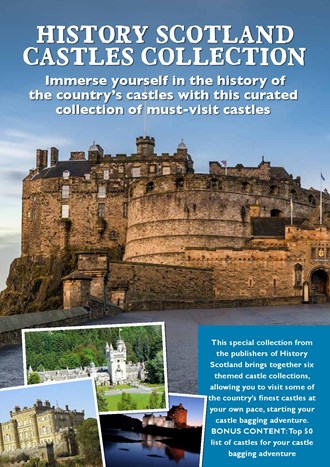 Discover more castles with History Scotland's NEW Castles Collection


Holyrood Palace

Holyrood Palace and its adjacent abbey was a key base of Mary and James V, and Mary was crowned at Holyrood Abbey in 1540, by which time King James V had built a tower and new west front at the palace.

Holyrood Palace, Canongate, Edinburgh EH8 8DX; tel: 0131 556 5100 website.

Linlithgow Palace

Famed as the birthplace of King James V, and of his and Mary of Guise's daughter, Mary Queen of Scots, Linlithgow Palace was another Royal Stewart favourite residence. Its location, on the road between Edinburgh and Stirling, made it something of a rural retreat between these palaces.

Although the palace is now largely a ruin, there is plenty to see, including the splendid three-tiered fountain, and the unusual oriel windows off the king and queen's bedchamber.

Linlithgow Palace, Linlithgow EH49 7AL; tel: 01506 842896; website.

Scottish National Portrait Gallery

The gallery holds an oil painting of Mary of Guise, painted c.1537 and attributed to Corneille de Lyon. It shows Mary dressed in a black dress and black hood, against a green background.

The gallery also has portraits of Mary Queen of Scots and King James V.

Scottish National Portrait Gallery, 1 Queen Street, Edinburgh EH2 1JD; tel: 0131 624 6200; website.

Stirling Castle

For centuries a favourite with the Stewart monarchs, Stirling Castle was a principal home of Mary and her husband King James V, and it was the king who began work on the splendid palace at Stirling.

On James's death in 1542, the castle became Mary's base from which she ruled the country in the name of her infant daughter Mary Queen of Scots.

Stirling Castle, Stirling FK8 1EJ; tel: 01786 450000; website.


St Margaret's Chapel

Mary's body laid at this chapel for nine months after her death, before she was eventually taken to Rheims for burial at the convent of Saint Pierre.

Edinburgh Castle, Castlehill, Edinburgh EH1 2NG; tel: 0131 225 9846; website.

The Magdalen Chapel, Edinburgh

The chapel was built between 1541 and 1544 and has strong links to the queen. The chapel was created for the Incorporation of Hammermen and it was here that Mary de Guise arranged academic lectures.

The chapel has a stained glass window (pictured) which depicts the coat of arms of Mary of Guise. The chapel is now owned by the Scottish Reformation Society and visitors are welcome – it is recommended that you check before visiting.

Magdalen Chapel, 41 Cowgate, Edinburgh EH1 1JR; tel: 0131 220 1450; website.

Images: Edinburgh Castle copyright David Monniaux; Holyrood copyright HeDavid; St Margaret's Chapel copyright Kim Traynor
Content continues after advertisements