15 April 2019
|
Explore the life and reign of Queen Victoria with our hand-picked selection of ten books covering the queen's childhood, family life, reign and relationships.
QUEEN VICTORIA TOP TEN READS
1. CHILDHOOD
The Young Victoria by Alison Plowden
Victoria was born at Kensington Palace, London on 24 May 1819 and lost her father Prince Edward before reaching her first birthday. As heir to the throne from infancy Victoria grew up knowing the would one day be queen. The Young Victoria explores the conflicting ambitions that surrounded those charged with the princesses' care including her mother Victoria and household comptroller John Conroy who between them devised the Kensington System of rules for the young Victoria's upbringing.
2. REIGN
Becoming Queen Victoria: the unexpected rise of Britain's Greatest Monarch by Kate Williams
Victoria's reign began on 20 June 1837 after the death of her uncle, William IV, and ended with her death on 22 January 1901. In Becoming Queen Victoria, Kate Williams begins with Victoria's act of banishing her controlling mother to the sidelines upon taking the throne, exploring the new queen's growing confidence and power. There is also a study of those who attempted to wrestle power from Victoria, including her ministers and her husband Prince Albert.
3. PERSONALITY
Queen Victoria: Daughter, Wife, Mother, Widow by Dr Lucy Worsley
Lucy Worsley's latest history title explores Victoria's various family roles, looking at how society's expectations affected how the queen behaved, even within a family and domestic setting. Lucy takes 24 days of Victoria's life and uses diaries, letters and other primary source material to show us how despite the popular perception that Victoria was very conservative, she was actually something of a trail-blazer for the women who followed.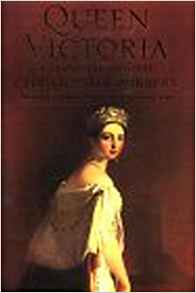 4. INSIGHT
Queen Victoria: a personal history by Christopher Hibbert
A personal history that spans the 64-years of Victoria's reign, looking at her development as a monarch against an ever-changing background of royal quarrels, overseas rebellions, the fall of monarchs and the development of Britain into a dominant industrial power. We also look at the queen's personal relationships, most particularly with her husband Prince Albert and her servant John Brown.
5. EMPIRE
Victoria: The Queen – an intimate biography of the woman who ruled an empire by Julia Baird
This award-winning biography that look at how a woman who came to the throne at the age of 18 went on to rule what was one of the world's most powerful countries at a time of great change. Author Julia Baird focuses on Victoria's controversial relationship with John Brown and also uses sources which show how Victoria balanced family life with the demands of her role as monarch.
6. MARRIAGE
Content continues after advertisements
My dearest, dearest Albert: Queen Victoria's life through her letters and journals by Karen Dolby
Queen Victoria's letters and journals form the basis for this exploration of what we can learn about the queen's life and relationship through her own pen. Victoria kept a diary from the age of 13, and author Karen Dolby uses extracts from the 122 volumes of Victoria's diaries, as well as her personal letters, to explore her feelings for her husband and children, her opinions on the people she came into contact with, and her views on both local and global affairs.
7. OVERVIEW
Victoria: A Life by A.N. Wilson
Award-winning biographer A.N. Wilson turns the spotlight on Victoria with this study that explores the many contradictions of Victoria's personality and aims to overthrow long-held presumptions about the queen's life and reign. Victoria emerges for the author as a 'brave, original woman', rather than the hysterical egomaniac some authors have portrayed.
8. INDIA
Empress: Queen Victoria and India by Miles Taylor
Victoria's rule in India is explored by Miles Taylor, focusing on the queen's entire reign, not just the final decades of her life with which we traditionally associate her with India. The author argues that both Victoria and Albert had a real passion for India and that the involvement of Victoria as empress led to the political and economic modernisation of India.
9. CHILDREN
Queen Victoria's Children by John Van der Kiste
Albert and Victoria had nine children together, each of whom was born into a life of royal privilege and some of whom would marry into Europe's foremost dynasties, creating descendants whose bloodlines run into the present day. Queen Victoria's Children looks at the character and personality of each of the children and explores how each child's position in the royal family shaped their character.
10. LEGACY
Grandmama of Europe: The crowned descendants of Queen Victoria by Theo Aronson
Queen Victoria and Prince Albert have well over 700 descendants, making Victoria's title 'grandmama of Europe' most apt. The late Theo Aronson looks at the many families of mainland Europe who can count Queen Victoria as an ancestor and explores the complicated bloodlines of the royal houses of Europe.
Note: The above links take the reader to Amazon UK, where we may receive a small commission for any purchase.
Subscribe to History Scotland magazine today to enjoy Scottish history at home and have your magazine delivered straight to your door while saving money. Click here to see our best offers.
Content continues after advertisement